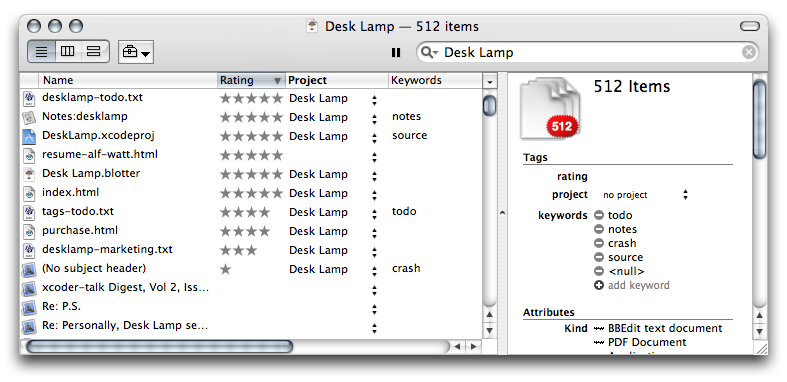 Desk Lamp is a flexible desktop search tool which focuses the power of Apple's Spotlight search technology on your documents, projects and work flows. Desk Lamp makes Spotlight a directed and powerful tool for managing your digital life. Search, Rate and Keyword features allow you to organize your files without folders, empowering you to track Projects, across all your hard drives and all your Spotlight enabled applications.
Desk Lamp sheds light on your day to day activities such as email, file management and even web browsing by providing powerful custom views of Spotlight search results. A traditional List view quickly displays any attributes you need for your search results. Outline and Browser views let you drill down on search results to quickly locate the documents you're looking for and get right to work.
What's New?
Release 0.2 is a small update to the packaging and site. Desk Lamp is headed to the Mac App Store.
Release 0.11 signifigantly improves performace for displaying search results and adds context-sensative menus for all attributes in the info view. Desk Lamp now displays a badged icon for multiple files, saves the column configuration for the list and groups views as well as the expanded items in the outline view and contains numerous stability and reliability improvements.
Search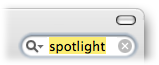 Using the powerful Spotlight Search engine Desk Lamp can find results in seconds. Desk Lamp's powerful query shortcuts allows you to fine tune your searches to get the most relevant results.
Ratings

Add custom Ratings to any file or folder, then use them to identify important files in any view. Ratings help you keep track of what's important, what's good and what you need to be paying attention to.
Keywords
Assign Keyword tags to any file! All the cool kids are doing it. Just start typing in the keyword column or click 'add keyword' in the info panel to quickly put keywords on any file. Quickly find items with a specific keyword by typing key: and then any keyword in the search box.
Projects

Desk Lamp makes Project management a snap. Search for your documents, add project tags and quickly recall just the documents you need by searching for project: and the name of the project.